Looking for a reputable local plumber who does quality work, keeps appointments, and doesn't cost a lot? It's easy to find a plumber if you know how to go about it and where to look.
Looking for a Plumber
Local plumbers that have been recommended by family, friends, neighbors or online reviewers should be your first pick. You can also try and find reliable plumbing companies or check out those that have already been recommended to you. You can also check out their qualifications when choosing which plumber to hire, but it's important not to overlook decades of experience and apprenticeships.
Make sure you get a Gas Safe registered plumber if you need one for plumbing work that involves gas. Furthermore, there are various trade associations in the plumbing trade. Although not all reputable plumbers will be members of such associations, such organizations insist that their member plumbers have the appropriate insurance.
Get Different Plumbing Quotes
If you need plumbing services for an emergency, there's not much you can do except call for a plumber and explain your problem in as much detail as possible. The plumber will tell you a tentative price for the callout. However, additional costs will depend on the parts required and the nature of the emergency. You may also have to pay for travel and parking expenses.
On the other hand, if the plumbing work that you require the services for isn't urgent, it's better to look a little longer for the right plumbing contractor before spending your money. Make sure you call two to three plumbing companies and get comparable quotes. You can only compare apples to apples, not oranges. Make sure you ask questions such as how long has the contractor been in business and is the work guaranteed and the guarantee backed by insurance. Make sure you ask for references or examples of similar work.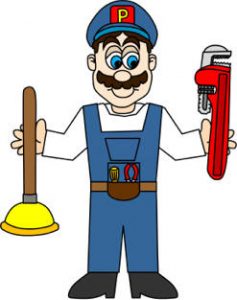 Don't hesitate to ask about the insurance plan that the business has and whether or not it covers your property. Also, ask whether there are any additional costs such as travel, parking, or waste disposal costs.
Depending on the plumbing job, the plumber may be able to quote you a price right away on the phone. However, any quote given on the phone is based on assumptions, so it's better to treat the quoted price simply as a ballpark estimate. It is also possible that the plumber will wish to visit your property before quoting any price.
You may also want to invite prospective plumbers to visit your property to get an idea of their trustworthiness and punctuality. Make sure they are able to explain all the options without much jargon. You should be clear on what tasks will be undertaken and what it will cost.
Paying the Plumber
If your plumbing job includes extensive work, an advance may be needed before the work is started. In such cases, you don't have to pay more than one-fourth of the total payment.